---
My Story
---
When I accepted the Sports Business Fellowship at Pac-12 Networks after graduating from Stanford University in June of 2018, I thought the position would be an ideal fit – it would blend my passion for sports with my background in communication and data science. But I quickly found things unfulfilling on the business side of media where my job was to promote others' stories. Although I enjoyed learning about the current challenges facing sports media companies and developed a more wholistic understanding of what goes into producing content, I realized my true passion was telling those stories myself.
We all have to start somewhere so I figured I might as well make an adventure out of the process. When I was offered a job covering sports for the Fairbanks Daily News-Miner – a seven-day paper in Interior Alaska – where I'd get to cover sled dog racing, snow machine racing and other local Alaskan sports, including "ear pulling", my fear of moving alone to a place I had never been wasn't enough to hold me back. In May of 2019, I moved out of my San Francisco apartment and American Pharoah (my trusty Subaru Legacy now outfitted with snow tires) and I began the six-day journey through Canada and up the Alaskan Highway.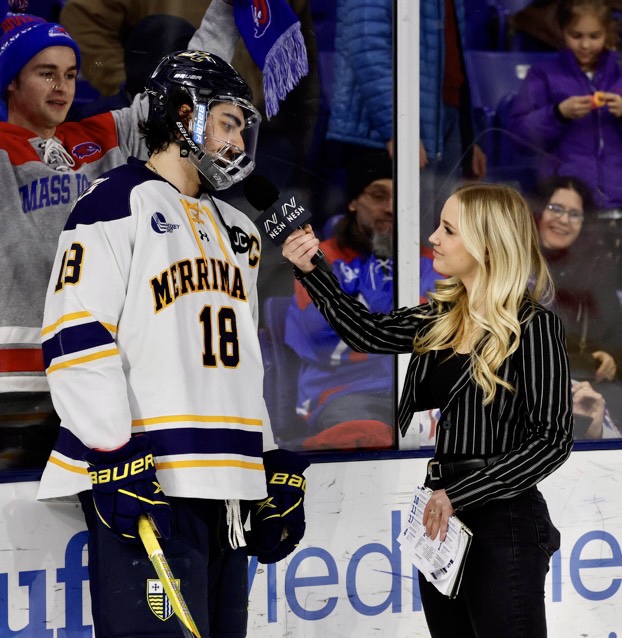 There, I found the storytelling opportunities I was missing. I covered a 1,000-mile international sled dog race, the World Eskimo Indian Olympics, two Midnight Sun Baseball Games, Division I Hockey and so much more.
After a year in Alaska, I left Fairbanks – a town I came to love – and moved to the East Coast to explore new career opportunities and further my education. In 2021, I began working closely with the Boston University athletics department as a digital producer and rinkside reporter for their men's hockey broadcasts, airing on NESN and ESPN+. This past college hockey season I expanded my coverage, contributing to 30 broadcasts for several Hockey East teams, including Boston College, University of New Hampshire and UMass Lowell.
This summer I'm excited to be the primary sideline reporter for the Triple-A Worcester Red Sox, where I'll be contributing to more than 50 broadcasts on NESN and NESN+.