Everything's bigger in Texas – except for its NFL Draft stock
Embed from Getty Images
By Laura Stickells | April 28, 2021
---
Year after year I prepare myself for the same college football narratives – Clemson and Alabama will compete for the title, Stanford will break my heart and Texas football is back… until it's week five and the team is 2-2.
So when I started dabbling in data from 247 Sports and Pro Football Reference a few weeks ago to see which schools underperform in the NFL Draft, I wasn't surprised to see that Texas stands out. But the extent of the underperformance is shocking.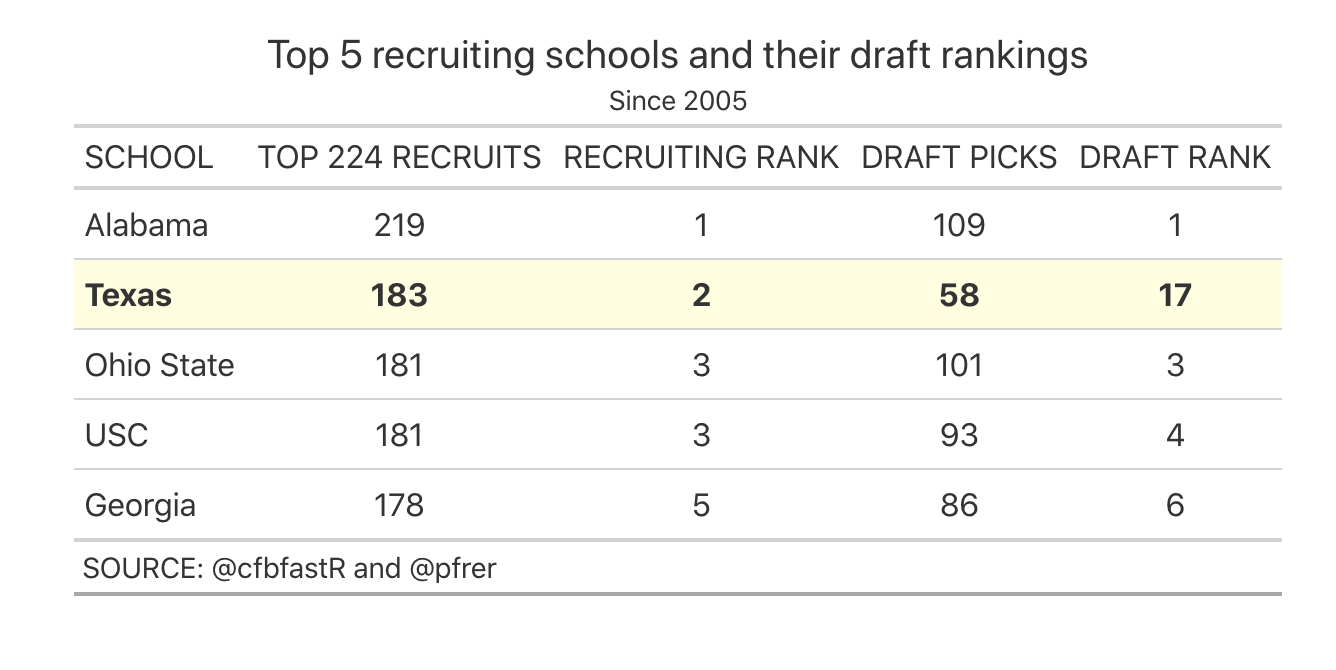 Between 2005 and 2020, the Longhorns collected 183 high school recruits that ranked in 247 Sports' top 224I looked at the top 224 recruits, because there are 224 picks in the NFL Draft.. In theory, if those athletes neither progressed nor regressed during their college careers and spent the next three to five years in a vacuum, those same 183 athletes would all be selected with one of the NFL Draft's 224 picks. But, obviously, progression and regression are inevitable and for players that commit to Texas, the later seems practically predestined.
Based on the number of recruits ranked in 247 Sports' top 224 since 2005, Texas ranks second nationally behind Alabama's 219.
Ohio State (181), USC (181) and Georgia (178) are close behind. But when the coin is flipped and draft day arrives, the Longhorns are abysmal. Since 2005, only 58 players have been picked according to data from Pro Football Reference, which ranks them 17th.
Meanwhile, the other top recruiting schools have had success spinning five- and four-star recruits into draft picks. Alabama, again, tops the list with 109 draft selections. Ohio State ranks third (101), USC fourth (93) and Georgia sixth (86). These five schools have produced on average 5.6 draft selections each year since 2005. But for the past 10 years, the Longhorns have consistently weighed that number down.
Since 2010, Texas hasn't produced more than five picks. Even USC, a team that has struggled in recent years, has performed better on draft day in seven of the last 10 seasons.
The cycle won't break this weekend either. Only three Texas players are likely draft picks (Sam Cosmi, Joseph Ossai and Caden Sterns), with two more (Ta'Quon Graham and Sam Ehlinger) on the fringes.
I connected with Longhorns beat writer Brian Davis to better understand this perpetual underperformance, which Davis credited in part to lack of development.
"Out of however many players that put themselves through the draft process, I bet you only maybe a quarter percent of those in the last seven, eight years, really were ready for the draft," Davis told me over the phone. "They needed more time because they just weren't good enough."
Some of the underdevelopment, Davis said, is self-inflicted. He pointed to 2018 as evidence – a year when all six Texas underclassman who declared for the draft either did not listen to or did not wait for a grade from the NFL Draft Advisory Board.
The lack of coaching consistency also cannot be ignored.
"Patrick Vahe was an offensive lineman who came through the system and he had four offensive line coaches in four years," Davis said. "How is anybody expected to develop when that happens?"
Vahe was a four-star high school recruit in 2015, ranked 129th nationally. After going undrafted in 2019, Vahe signed with the Baltimore Ravens, but was released during final roster cuts.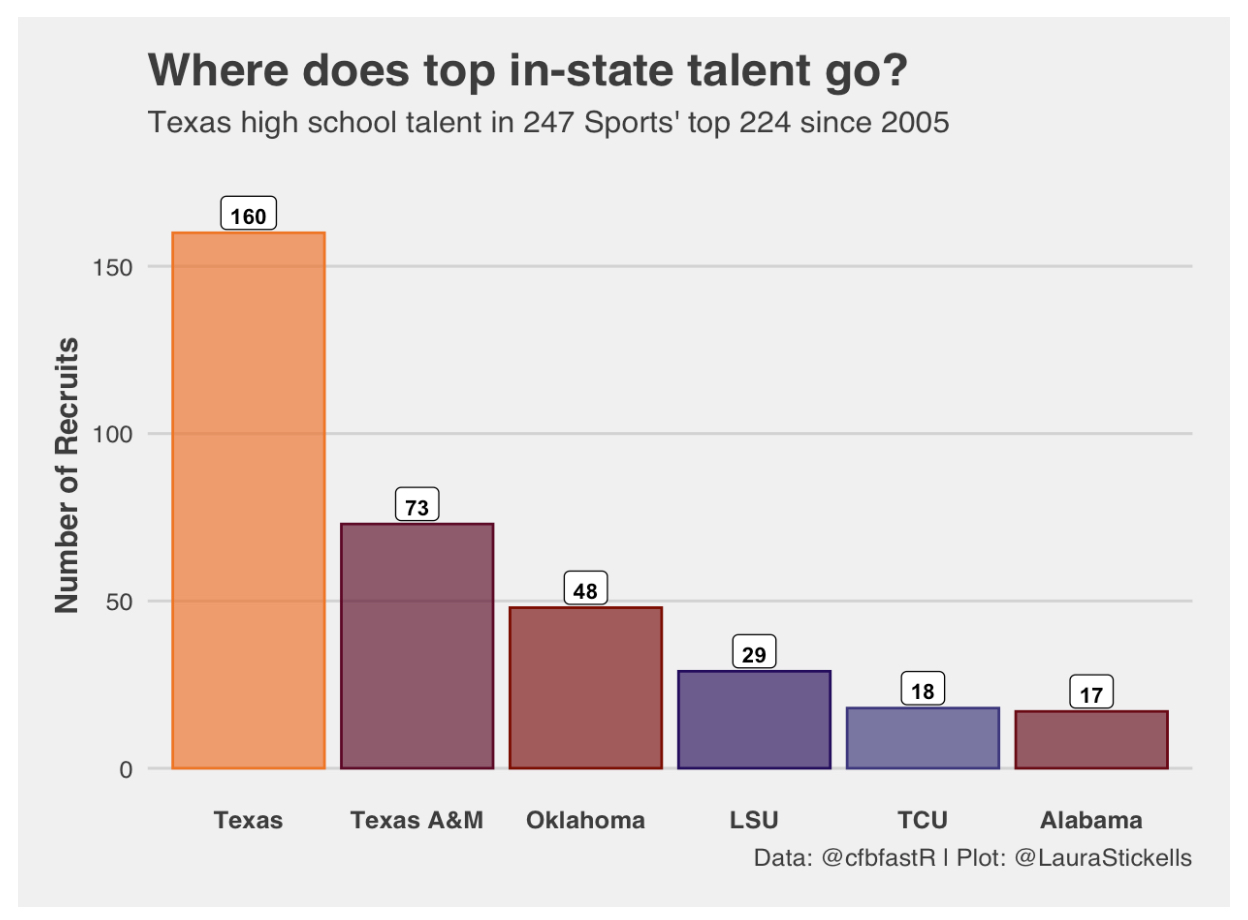 Davis also thinks some guys are getting passed up simply because they played at Texas. "Just a kind of above average team doesn't really generate a lot of heat with NFL folks," he said.
This year, he thinks that could be the case for Sam Ehlinger, who is statistically one of the best quarterbacks in Texas history, but finished his career with only a 27-16 record as a starter. Ehlinger is projected to go in the seventh round, if at all.
So, what gives? If new head coach Steve Sarkisian can't establish some consistency and turn around the program, will top recruits stop signing with Texas? Seems unlikely.
Between 2005 and 2020, the Longhorns have relied on their favorable location (according to data from 247 Sports and cfbfastR, only Florida has produced more high school athletes ranked in the top 224 in that time frame), consistently signing in-state talent.
From 2005 to 2020, 160 Texas high school players committed to the Longhorns – twice as many as second place Texas A&M (73). Win or lose, in-state talent keeps coming despite young athletes recognizing not all is well in Austin.
"They recruit so well because it's Texas. It's the flagship school. It's the big brand, it's the logo, it's everything that these kids grow up being inundated with," Davis said. "But the question of why don't they get developed? That's really what it is. And that is also at the heart of why the program hasn't been winning over the last, seven, eight, nine years."
Time will tell if Sarkisian can spin stars into draft picks. But the next three days will definitely be another underwhelming draft for Longhorns fans.
I've attached my R Markdown file for anyone who's interested in taking a look.
R Markdown