This BYU draft class is *literally* off the charts
Embed from Getty Images
By Laura Stickells | April 28, 2021
---
Zach Wilson is stealing the show at BYU, but his supporting cast of draft eligible Cougars is literally off the charts. (Yes literally! Look at the graph!)
Only seven BYU players have been selected in the draft since 2010, but over the next three days, that number could practically double. Pro Football Focus included eight Cougars in its top 300 draft board, and although a few of those will likely fall to free agency, five picks feels like a practical possibility.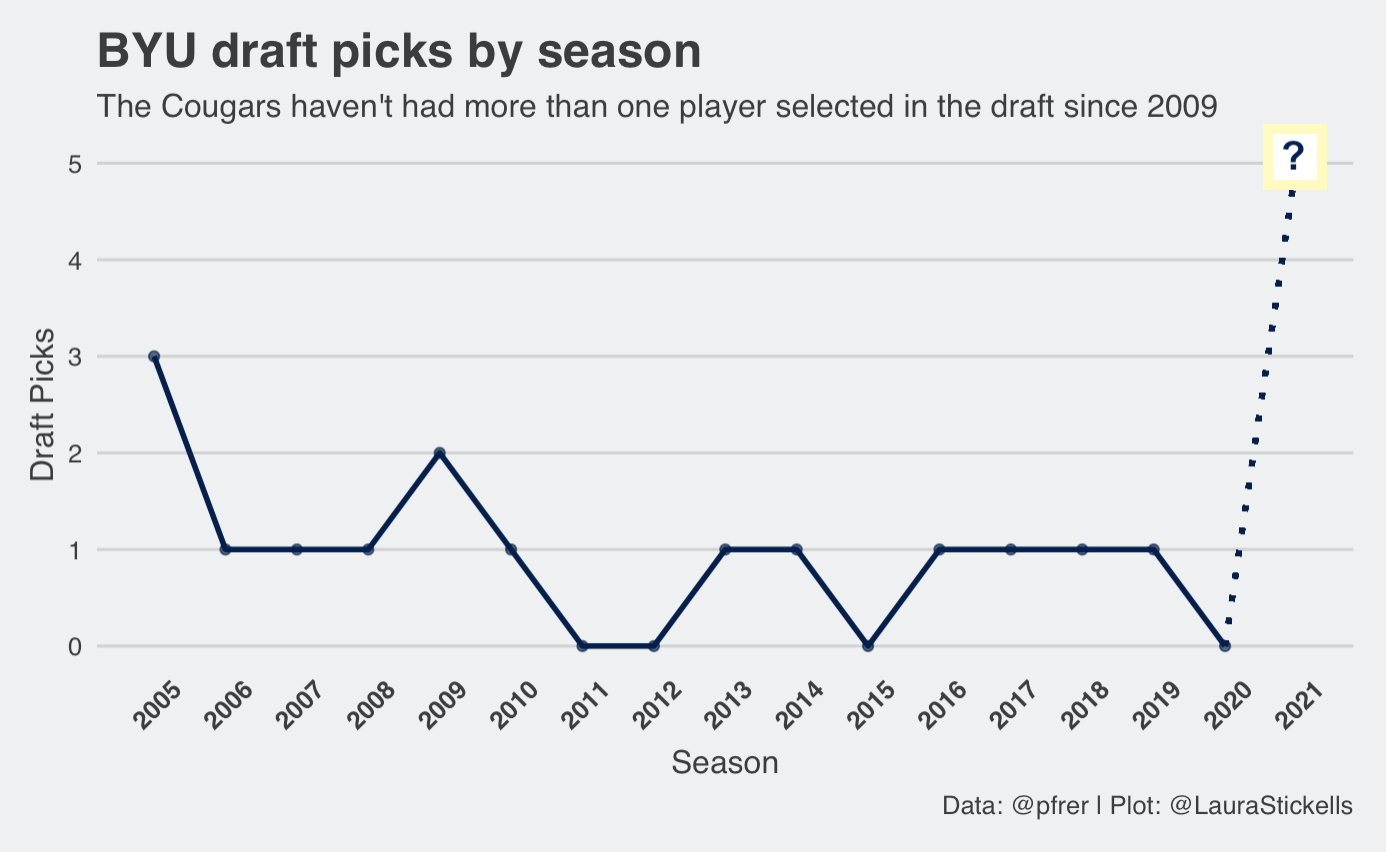 But how did such a talented group of guys end up in Provo, Utah? According to Jeff Hansen, who has covered BYU for the past 10 seasons, we're finally starting to see the impact of a recruiting strategy shift that took place five years ago.
BYU's affiliation with The Church of Jesus Christ of Latter-day Saints dramatically limits recruiting opportunities, so when head coach Kalani Sitake took over the program in December of 2015, he knew he had to get creative.
"Most football coaches, they want to go and get the best football players that they can find. But when Sitake took over, he knew that BYU couldn't compete with the big schools," Hansen said over the phone. "Sitake just wanted to get the best players who were good at something, whether that's somebody who has crazy good size, or somebody who is super fast."
"Then he trusted his and his coaching staff's ability to develop whatever that something was into a really good football player," Hansen added.
Hansen pointed to Brady Christensen as the epitome of the philosophy. When Christensen graduated from high school in 2015, he was a two-star recruit, weighed only 245 pounds and was playing centerfield for his high school's baseball team. He did not look like a typical lineman. But he was fast and, according to Hansen, "freaky athletic."
This year Christensen became the Cougars first consensus All-American since 2009 and is projected to go late in the third or early in the fourth round. He's also 55 pounds heavier.
Wide receiver Dax Milne, another two-star recruit who came to BYU as a preferred walk-on and a talented route-runner, is another prime example.
"If you just saw Dax Milne on the street, he just looks like a guy," Hansen said. "He's like 6 feet tall, 175 pounds, and just kind of a skinny dude. Even now that he's getting ready to go to the NFL, when you look at him, he just looks like some average guy. But he's special."
Some draft boards put Milne in the third round, while others have him getting picked up in free agency.
If BYU's history in the NFL is an indication for the future, Milne, Christensen and the other draft eligible Cougars have a good chance of success. Although only seven players from BYU have been selected since 2010, the majority have performed well. Of the 112 schools that had five or more players selected since 2010, the group from Provo ranks second in average Career Approximate Value.
And looking at those seven players individually, many have outperformed their draft position.
Most notably, Fred Warner, who was selected in the third round by the San Francisco 49ers in 2018, has accumulated a Career AV significantly greater than all the outside linebackers selected before him.
Sione Takitaki, Jamaal Williams and Kyle Van Noy (all picked after the first round) each have performed on par with the earlier draft picks at their respective positions, which, if you think about it, is an overachievement. If draft position is predictive of NFL success, the expectation would be that the last drafted player performs well below that average.
Additionally, undrafted free agents Taysom Hill and Daniel Sorenson have both had successful pro careers.
This consistent overperformance, Hansen thinks, could be a product of age, as many BYU athletes serve a mission for two years before starting college.
"When guys go on missions and then come home and play for four or five years in college, by the time they go to the NFL they're just old," he said. "I think the NFL doesn't want to try to develop somebody who's already 25 or 26 years old. And a lot of BYU players are that age. But when they get a chance in the NFL, they stick and they do pretty well."
R Markdown